-Environmentally Friendly
At Kyokurei, caring for our customers' products, people, and the environment is always on our minds. In order to provide the best logistics environment to our customers, we strive to cooperate and be the company our customers choose again and again.
K Series Products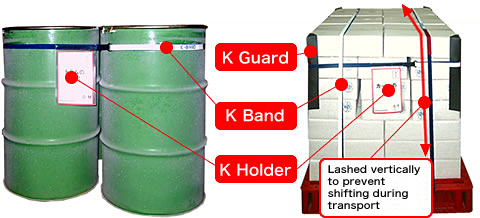 K Guards
K Guards are protectors that prevent rope lashes from digging into packaging and prevent damage to package corners during shipping and storage. These further help prevent load shifting and collapsing during transport.
K Bands
K Bands are reusable Velcro bands that can be used with products loaded on pallets to further prevent load shifting and collapsing. These can be used instead of stretch film and PP bands, which cannot be reused.
K Holders
K Holders are a clear type of file holders that do not harden in cold temperatures. They are convenient for holding product ID tags, IC tags, etc. K Holders adhere tightly to K Bands with Velcro, eliminating any fears of the holder falling off during transport within the warehouse.
-Patent obtained
Patent Application Publication No.: P2005-292647A
The K Series is a cargo binding system developed jointly with Kuraray Fastening Co., Ltd.(
http://www.magic-tape.com/
) that, even in low temperatures, does not harden or damage easily, and is environmentally friendly as parts of the system can be reused. Contact Kuraray Fastening Co., Ltd. (TEL:06-6348-2555) for sales and inquiries.
"Magic Tape®" (Velcro) is a registered trademark of Kuraray Fastening Co., Ltd."